A Night at the Museum
Filming for our Online Festival began this week from the magnificent setting of Perth Museum & Art Gallery.
Like many spring festivals, we've been working creatively to bring artists and audiences together online and are ready to showcase the city's cultural venues through ten arts-packed days of concerts broadcast from 20-29 May.
Enjoying their first performance in Perth was award-winning vocal ensemble, The Gesualdo Six. The recording with conductor Owain Park, his team and production company Stagecast launched the Festival's busy recording schedule, which will see 14 concerts filmed around the city over the coming month.
From the historic museum setting, The Gesualdo Six recorded a programme of a cappella works from Renaissance Italy, exploring how the madrigal came to be a powerful and popular form for communicating ardent emotions. The concert will broadcast on 25th May as part of the Festival's Classical Series.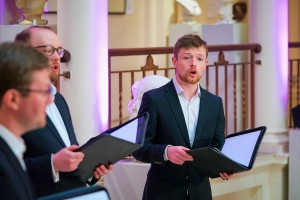 The Gesualdo Six comprises some of the UK's finest consort singers. In 2020, their album Fading was awarded Vocal & Choral Recording of the Year 2020 by Limelight.
Conductor Owain Park commented: "It was such a delight to perform at the Perth Museum and Art Gallery. Knowing that our musical programme would be expertly captured has given us much to look forward to over the past few months. The filming day was an immensely enjoyable experience, and we can't wait to watch our concert and explore the rest of this year's Perth Festival!"