BBC Big Band
Join the internationally acclaimed BBC Big Band for a unique concert celebrating the Music of James Bond... And Beyond!
A wonderful band!
Tony Bennett
They brilliantly continue the tradition of Big Band music. As such they are important, as well as marvellous!
Michael Parkinson
The internationally acclaimed BBC Big Band are joined by special guest vocalists, Emer McParland and Iain Mackenzie, in a unique concert celebrating the music of perhaps the world's most iconic movie franchise: James Bond.

Featuring classic numbers, including 'Diamonds are Forever', 'Thunderball','We Have All The Time In The World', 'View to a Kill', 'Goldfinger'and (of course!) John Barry's iconic 'James Bond theme'; alongside a selection more contemporary numbers from the James Bond library – including the brand new Billy Eilish track 'No Time To Die' ... all performed in the BBC Big Band's own inimitable style. Also included are a sprinkling of numbers inspired by the film genre, from the likes of 'Mission Impossible' and 'Austin Powers', to name just a few.
Don't miss this unique concert, celebrating the very best of James Bond (and beyond) - performed by one of the world's finest Big Bands.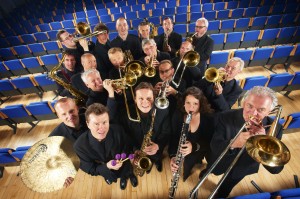 World-class musicians … a brilliant musical force
The Telegraph
Show running time: Approximately 2 hours 10 minutes (including interval).
Adults £27.50
Children £11.50
All prices include a £1.50 booking fee.