Scouting for Girls join 2014 Perth Festival Line-up
Wednesday 28th May 2014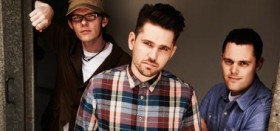 The concert comes following the release their Greatest Hits album on 29 July 2013, a compilation which includes two brand new songs, including new single Millionaire, as well as favourites including She's So Lovely, Heartbeat, This Ain't A Love Song and Elvis Ain't Dead.
Over the course of three sparkling, life-affirming, Top 10 albums, Scouting For Girls have made the journey from playing pubs in Harrow and Ruislip to headlining Wembley Arena and the Albert Hall. This, then, is the tale of three friends who followed their dream, seduced a nation and sold two million records along the way. The band consists of childhood friends from London, Roy Stride on piano and lead guitar/vocals, Greg Churchouse on bass guitar and Peter Ellard on percussion.
After two years of hard touring, 'Everybody Wants To Be On TV' soared into the British top two, 'This Ain't A Love Song' gave them their first Number 1 single ("a real turning point; we knew then we weren't going to go away," remembers Roy) and by 2011 they were headlining Wembley Arena a few miles but several light years away, from their modest beginnings. 2011's 'The Light Between Us' made it three out of three Top 10 albums as Scouting For Girls evolved into a national institution, the under-rated band we love more than we think we do. Roy has embarked upon a sideline of writing songs for others including One Direction ('I love how Scouting for Girls have been bringing feel good pop music to Britain in the past years.' – Louis Tomlinson, One Direction), Olly Murs and Alexandra Burke amongst others.