Premiere of new concerto by Stewart Copeland
Saturday 31st May 2014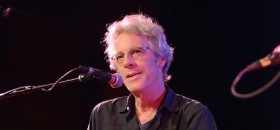 Commissioned by the Royal Liverpool Philharmonic from Stewart Copeland, composer, and co-founder member and former drummer of seminal 1980s band, The Police, The Royal Liverpool Philharmonic Orchestra under the baton of Chief Conductor, Vasily Petrenko, will give the world premiere performance of Copeland's percussion concerto, Poltroons in Paradise on 23 May at Liverpool Philharmonic Hall and a second performance at Perth Festival on 25 May 2014.

Scored for timpani, three percussionists and full symphony orchestra, the Royal Liverpool Philharmonic Orchestra's Principal Timpanist Neil Hitt, Principal Percussionist Graham Johns and fellow percussionists Josephine Frieze and Henry Baldwin take centre stage for this scintillating work. All four soloists will demonstrate their virtuosity across the full, exotic range of percussion instruments digging deep into their timbral and rhythmic possibilities in an interaction with the orchestra.
Voted the seventh greatest drummer of all time in a 2010 poll in Rolling Stone magazine, Copeland was drummer with Curved Air before The Police, and subsequently with many major artists. He has also developed a highly successful second career as a composer for film, TV and the concert hall.

He says of his inspiration for this new concerto:
"Poltroons in Paradise is the beginning of a story, the cheerful part, about those who ride in on the back of a revolution and then discover the temptations of those things against which they had revolted. I'm imagining a cadre of starving, hitherto excluded intellectuals swaggering through the palace of the fallen regime. The chandeliers, the brocades and the gilded furniture all inspire a grand buffoonery that hides a sneaking desire.
"Many composers would regard the mission of writing a percussion concerto as an opportunity to celebrate banging and clattering. A worthy cause no doubt, but there can be great beauty in things that are hit with a stick. And those satins really are quite beautiful…"
Following this concert, Liverpool Philharmonic Hall closes for a major refurbishment, re-opening in November this year. The Royal Liverpool Philharmonic Orchestra will travel to Scotland to perform in the Perth Festival of the Arts on 25 May for the Brewin Dolphin Festival Concert that includes a second performance of Stewart Copeland's Poltroons in Paradise.
STEWART COPELAND
Voted the seventh greatest drummer of all time in a 2010 poll in Rolling Stone magazine, Stewart Copeland was born in Alexandria, Virginia, the son of a CIA officer and a Scottish archaeologist. The family moved to Egypt when he was a few months old and he spent his formative years in the Middle East, something which is held to have contributed to his distinctive drumming style, which is said to combine reggae and Lebanese influences. Following his return to the USA, Copeland was drummer for the progressive rock band Curved Air from 1974-1976. After their demise he moved to London, seeking to enter the British punk rock scene, and in 1977 co-founded the three-piece band The Police with Sting as singer-bassist. The Police became one of most influential bands of the 1980s. At least in their early years, they largely played Copeland's material, and though Sting took a progressively larger share as the band developed, Copeland continued to be responsible, or jointly responsible, for arranging the material on all of the band's albums.
The Police ceased touring in 1984 (though they came together again for a one-off reunion tour in 2007), and Copeland has continued to appear with many major artists while he also developed a highly successful second career as a film-music and TV composer (his credits include Airborne, Hear no Evil, See no Evil, Highlander II – widely regarded as 'one of the worst films ever made' – and Taking Care of Business). In 1985 he made a pilgrimage to Africa 'in search of the roots of rock and roll' which resulted in the album and film The Rhythmatist in which Copeland played a large number of native percussion instruments.
Since the 1980s, Copeland has also composed several 'classical' works, notably the ballets King Lear (1986), Emilio (1988) and Prey (1999) and the operas Holy Blood and Crescent Moon (for Cleveland Opera, 1989) and Horse Opera (for Channel 4, 1992). In 2005 he released an album of chamber music composed in Italy, Orchestralli. His orchestral composition Celeste, featuring violinist Daniel Hope, was premiered at the Savannah Music Festival in 2008. In the same year the Dallas Symphony Orchestra commissioned him to compose a piece primarily involving Indonesian percussion instruments: the result, premiered in 2011, was Gamelan D'Drum, which was also heard at London's Royal College of Music in 2012. Copeland currently lives in Los Angeles.