Quality abounds in 2013
Saturday 30th November 2013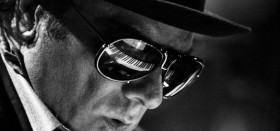 Sir James and Lady Galway will play at the Festival's Opening Concert on Sunday 19th May with the English Chamber Orchestra conducted by Jaime Martin. Sir James will play the Mozart flute concerto. The living legend of the flute, Sir James Galway is regarded as both the supreme interpreter of the classical flute repertoire and a consummate entertainer whose appeal crosses all musical boundaries. Sir James has made himself a modern musical master whose virtuosity on the flute is equalled only by his limitless ambition and vision. Through his extensive touring, over 30 million albums sold and his frequent international television appearances, Sir James has endeared himself to millions worldwide and is a tireless promoter of the arts.
A list singer-songwriter Van Morrison OBE will play at Perth Concert Hall on Wednesday 22nd May. Some of his recordings, such as Astral Weeks and Moondance the live album It's Too Late to Stop No were critically acclaimed and appear at the top of many greatest album lists. He rose to prominence in the mid-1960s as the lead singer of the Northern Irish R&B band Them, with whom he recorded the garage band classic Gloria. His solo career began with the release of the hit single Brown Eyed Girl in 1967.


After last year's huge sell-out success Jools Holland and his Rhythm and Blues Orchestra will return to the Festival to play on Friday 17th May with a Special Guest Roland Gift, the voice of Fine Young Cannibals. Scottish rising stars Admiral Fallow supported by Dundee band, The Hazey Janes, will also play at Perth Concert Hall.
English Touring Opera, the UK's leading touring opera company, return to Perth from Thursday 16th – Saturday 18th May with three new productions focusing on storytelling through bel canto, beautiful singing. James Conway directs the first-ever UK professional tour of Donizetti's The Siege of Calais, with designs by Samal Blak, inspired by the Siege of Stalingrad. Donizetti's opera is performed alongside Simon Boccanegra – ETO's first new Verdi production in several years – and Paul Higgins' new period production of Mozart's Così fan tutte. James Conway, ETO's General Director, said: 'Our plans are very ambitious, but we have prepared for them for some time. In terms of imagery there is a theme running through them of people in cities governed by the sea – Genoa, Naples, and Calais. Mostly, though, our work reflects the diversity and richness of opera.'
World-renowned choir The Sixteen will sing in St John's Kirk of Perth as part of its most far-reaching Choral Pilgrimage tour yet, encompassing 34 concerts around the UK. The tour, entitled The Queen of Heaven, will see Harry Christophers CBE and his choir perform glorious music in churches and cathedrals for which it was written. This will be a 'must-hear' event where the group will take you through the musical evolution of the Allegri's legendary and much-requested Miserere. The programme also features stunning music by the 'Prince of Music' Palestrina, as well another brilliant yet contrasting setting of the Miserere by James Macmillan.
For almost seven decades, the Moscow State Symphony Orchestra, which will close the Festival, has been recognized as one of the foremost interpreters of the classic Russian composers. A Los Angeles Times critic recently said the orchestra 'might well be the world's least-heralded great orchestra'. Since Pavel Kogan became Music Director he has earned the orchestra a reputation for artistic excellence and in 2011 his name was included on a list of the ten greatest conductors of the 20th century.
Oscar Wilde's theatrical masterpiece is widely-acknowledged as one of the greatest comedies in the English Language. Wonderful characters, sparkling dialogue, gloriously improbable plot twists and a sprinkling of romance - The Importance of Being Earnest has it all. London Classic Theatre promises to bring this 19th century classic to vivid, extravagant life with their customary flair, attention to detail, high-quality casting and impeccable production values.
Beloved Clara, the story of the intense relationships between Robert Schumann, his wife Clara Schumann and Johannes Brahms, has always fascinated music lovers. Music, performed by the award-winning pianist Lucy Parham, is interspersed with extracts from their letters and diaries, which are read by Martin Jarvis and Joanna David.
Other gems include Horrible Histories by Birmingham Stage Company, fresh from their success at the Edinburgh Fringe, a sweet song and dance show about Jacques Brel by Edinburgh based Heels Over Head Dance Company, a Festival Ceilidh with Perthshire's The Gallivanters and Festival favourites The Scottish National Jazz Orchestra play the music of Stan Kenton.
The Festival is not only all about big name international stars but also nurtures local musical talent. Each year the Festival hosts a recital by a young Perth musician who has decided to make a career in music. This year Jessica Hall will perform a concert in St John's Kirk on Saturday 18th May.
There are many free events including daily lunchtime concerts by Perthshire Schools and by Perth Youth Orchestra, Art on the River and lots of local exhibitions. Perth Museum and Art Gallery will stage a special exhibition - A Sense of Place New & Innovative Responses to Perth & Kinross by members of the Royal Scottish Society of Painters in Watercolour.
This year the Festival invited three artists to submit ideas for a new Festival design funded by EventScotland. Cat O'Neil is the chosen artist and she has created designs which with feature for the next three Festivals in brochures, programmes, banners and advertising.
The Festival is a registered charity now in its 42nd year. Over the years it has grown from its classical and opera roots to embrace a wide range of art forms.