Glamorous production of Mozarts The Magic Flute to get Perth Festival underway
Wednesday 7th May 2014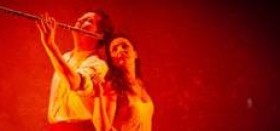 A glamorous and critically-acclaimed production of Mozart's opera The Magic Flute comes to Perth Concert Hall as the opening performance of the Perth Festival on Thursday 22 May, after first appearing in the city in 2009.
First performed in Vienna in 1791, The Magic Flute remains one of the world's most popular operas. It was written as a singspiel, which combined music and spoken dialogue rather like a modern musical and, as a result, remains one of the most accessible operas performed today. The story is a romantic adventure, following a young prince and princess on a terrifying and joyful journey in pursuit of love. Mozart's beautiful score ranges from the show-stopping arias of the Queen of the Night to jolly folk tunes.
ETO's production is directed by choreographer Liam Steel, whose previous work includes the 2012 Olympic torch handover and the film version of Les Misérables. The staging is very lively and physical with enthralling visuals, and the opera is sung in full costume and accompanied by a live orchestra of 25 musicians, conducted by Michael Rosewell.
ETO's General Director James Conway said: 'Anyone who saw Liam Steel's memorable production of The Magic Flute for ETO in 2009 will remember its endless invention and charm, and its clear and faithful presentation of the story.' He added: 'With Liam bringing his huge experience in choreography to this show, I don't think I have ever seen a chorus so busy! We're delighted to be reviving this production in Perth'.
The Magic Flute is performed at Perth Concert Hall at 7.30pm on Thursday 22 May. Tickets range from £25 to £38. Running time: 2 hours and 35 minutes including one interval. Tickets and further information 01738 621 031 / www.perthfestival.co.uk