Dougie MacLean commissioned to create new work "The Perthshire Cantata"
Friday 30th May 2014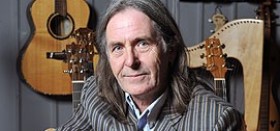 Arranged by John Logan, 'Perthshire Cantata' will be performed by leading musicians including Greg Lawson, principal second violinist at the BBC Scottish Symphony Orchestra, and piper, Ross Ainslie amongst others. The project is supported by an award of £9,470 from Creative Scotland.
Seven commissions across Scotland have been supported with a total of £148,470 through Creative Scotland's Traditional Arts Programme, which aims to ensure Scotland's traditional arts are recognised and celebrated nationally and internationally.
The purpose of the fund is to support new commissions of Traditional Arts activity – of various scales and art forms – that can be performed or exhibited regionally, nationally and internationally – reflecting local diversity, and Scots and or Gaelic where appropriate.
Leonie Bell, acting director of Creative Development at Creative Scotland, said:
"Traditional arts play a unique role in Scotland's cultural identity, communities are bound by the stories and music around them, our history is kept alive, our future shaped. These diverse commissions draw on different strands of this country's vibrant musical and literary traditions, creating work that has its own place and meaning in the 21st-century."