Academy of St Martin in the Fields
Tomo Keller
Director/ Leader
One of the world's finest chamber orchestras, the Academy of St Martin in the Fields, joins cellist Laura van der Heijden to bring our 2020 Festival to a brilliant close.
Supported by the Jimmie Cairncross Charitable Trust
Please note that this event has been cancelled.
Mozart ~ Symphony No. 29 in A major
Haydn ~ Cello Concerto No. 1 in C major
Arnold ~ Sinfonietta No. 1
Tchaikovsky ~ Serenade for Strings in C major
The Academy's programme opens with one of the most popular symphonies from Mozart's early period; his 29th in A major, combining youthful energy with graceful orchestration. Haydn's first Cello Concerto was presumed lost for two hundred years until 1961 when a copy of the score was found in Prague; now a popular staple of the cello repertoire for which we are delighted to welcome the brilliant young cellist, Laura van der Heijden on to the stage.
Malcolm Arnold cleverly evokes the 18th century in his Sinfonietta, despite being composed in 1954 and therefore sits beautifully in this evening's programme, opening the second half. Tchaikovsky's Serenade for Strings has delighted audiences worldwide for nearly 150 years, emulating Mozart's style, it provides the perfect climax for the Academy's programme.
The Academy of St Martin in the Fields is one of the world's finest chamber orchestras, renowned for fresh, brilliant interpretations of the world's greatest orchestral music. Through unrivalled live performances and a vast recording output, the Academy has established an enivable international reputation for its distinctive, polished and refined sound. With over 500 releases and an international touring programme, the name and sound of the Academy is known and loved by classical audiences throughout the world. Today the Academy is led by Music Director and virtuoso violinst Joshua Bell and continues to push the boundaries of play-directed performance to new heights. The orchestra celerates its 60th anniversary in the 19/20 season and will close Perth Festival of the Arts on 30th May 2020.
Upper photograph by Benjamin Ealovega.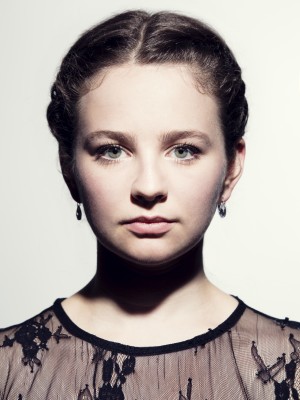 Photograph by Chris Gloag
Laura van der Heijden has already made a name for herself as a very special emerging talent, captivating audiences and critics alike with her insightful and faithful interpretations. Having turned 22 in 2019, Laura can already look back on a number of exceptional acheivements, among them becoming the winner - at the age of just 15 - of the BBC Young Musician competition. In the past few years, Laura has performed with leading orchestras such as the Philharmonic, the Academy of St Martin in the Fields, the Royal Philharnonic, European Union Chamber and English Chamber Orchestras. Laura released her debut album in 2019 with pianist Petr Limonov to great ciritical acclaim, including winning the 2018 Edison Klassiek Award.